Read news in the Partner Portal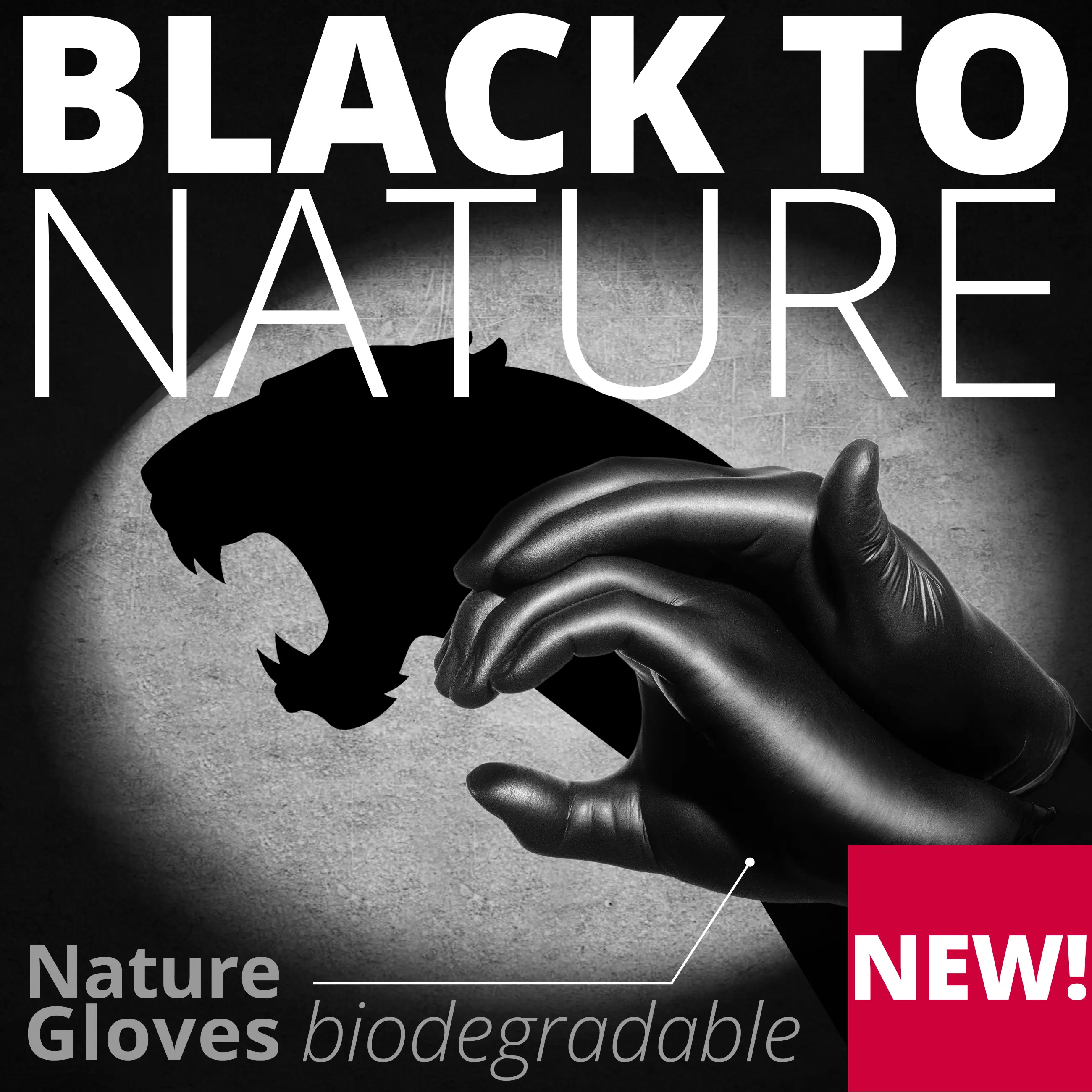 Nature Gloves for the environment!
July 7, 2023
AMPri editors
Back in 2021, as part of our commitment to sustainability, we incorporated the "Nature Glove" by Med-Comfort into our product range. In addition to receiving positive feedback, we were inundated with inquiries, particularly from the hospitality industry, asking if we could produce these gloves in black. We are pleased to announce that the first batch of black, biodegradable nitrile gloves, "Nature Glove", is now available. Thus, we say: "Black to Nature"!

The black nitrile gloves are especially suitable for:
Hospitality, restaurants, food trucks, bars, tattoo parlours, nail salons, hairdressers, beauticians, massage parlours, and podiatry clinics. They are the perfect choice wherever there is a focus not just on protection and hygiene but also where aesthetics and a commitment to sustainability matter.
Responsibility – Quality – Consistency - Reliability
These are the core values that we at AMPri stand for every day. With the new black variant, we are taking another step forward, proving that AMPri is one of the most innovative and committed manufacturers in the industry. Experience the quality for yourself and order a free sample now.
For a free sample, please contact us at info@ampri.de with your contact details and sample size.
Nitrile Gloves and Biodegradability
The chemical structure is the sole determining factor for the biodegradability of plastics like nitrile. A plastic becomes biodegradable when it is metabolically or enzymatically processed by microorganisms, worms, or fungi and broken down into its natural components. The biodegradation of gloves begins when they are disposed of in an oxygen-deficient environment. Generally, nitriles are not easily decomposed by anaerobic soil microorganisms due to their low natural affinity to polymers. Our Nature Glove contains an additive that makes it much more attractive to microorganisms than a conventional nitrile glove. This means that within two years, our "Nature Gloves" are decompose by more than 70%, compared to the several hundred years it takes for conventional plastics to break down.
Make your contribution to sustainability now and order our biodegradable Nature Gloves!

Author: AMPri editors
The AMPri editorial team regularly produces high-quality blog posts on new product developments, research or the market situation. If you have any questions, please contact us at presse@ampri.de