Nature Gloves in Black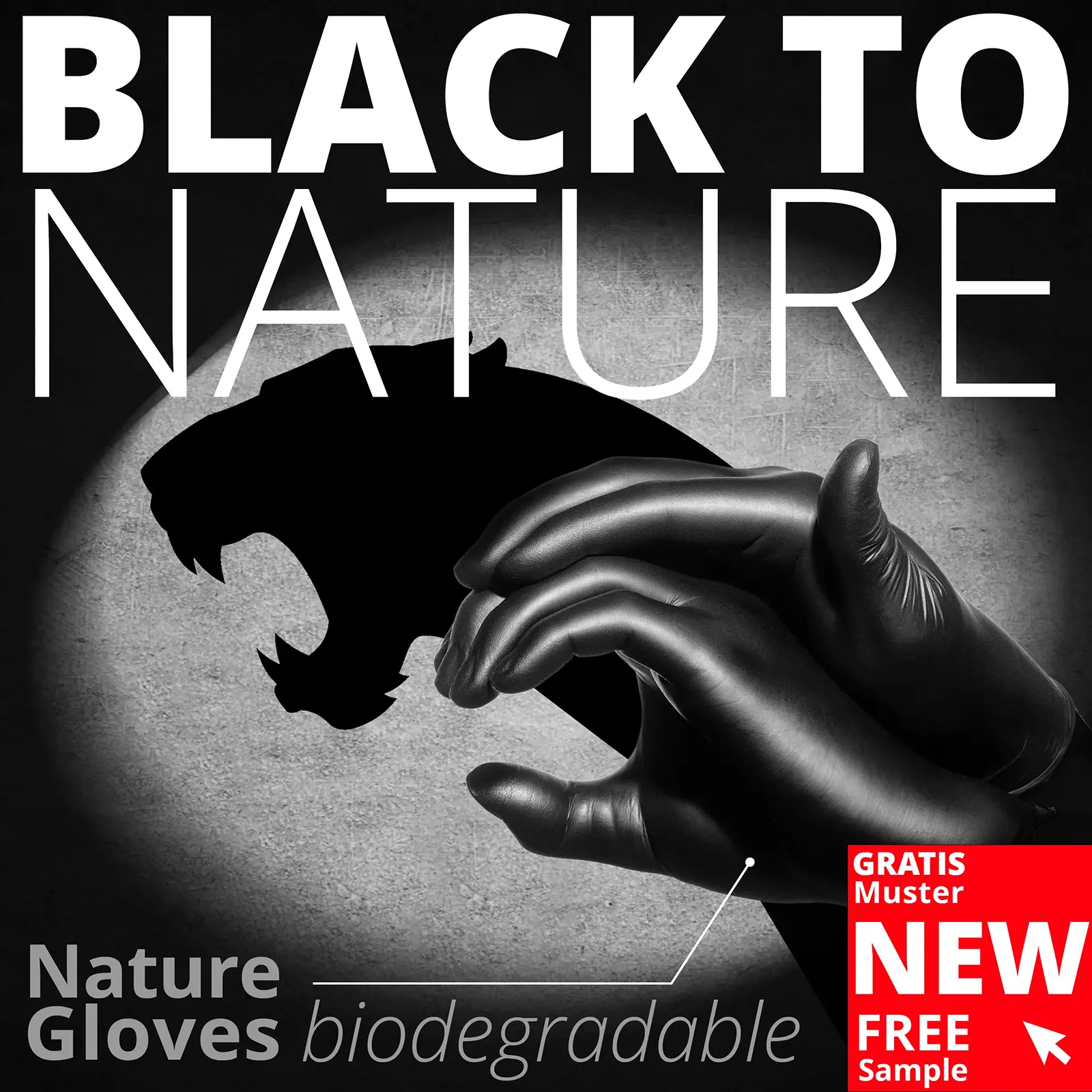 Log in here
See prices, place orders
and order history:
You can activate all these functions by creating a user account!
You are not yet registered?
Register now

Wholesale goes online: The AMPri Partner Portal stands for trust since 1994
When AMPri Handelsgesellschaft mbH was founded in April 1994 by Managing Director Thomas Böhme, the first product, the dental glove Absogel, also arrived in the port of Hamburg with the first container for AMPri. At that time, only powdered latex gloves were available and it was only with the gel-coated
disposable glove Absogel
that users were no longer exposed to the allergy risk associated with latex proteins. An innovation in the
wholesale
trade that no one else had: AMPri grew quickly, it didn't take long for customer enquiries to determine the product range. The
disposable glove Absogel
, however, took the market by storm. However, we were still a long way from B2B
wholesaling
, or
wholesaling for resellers
, let alone a digital AMPri partner portal.In 2001, two years after the appointment of the second managing director Tobias Stahmer, our new office building in Stelle also opened. At that time, the idea of an
online shop
where people could
order online
or
shop online
was still a long way off. However, with the acquisition of the cooperation partner in China, we gained quality control, assistance with product support and product monitoring as well as suggestions for the selection of adept local production facilities, so that we proudly started into the new millennium!
AMPri as a B2B wholesaler at the turn of the millennium
A new millennium, a new anniversary, a new wholesaler for resellers with disposable products such as
disposable gloves
and
surgical masks
in the SME sector! In 2004 AMPri reached the next decade in
wholesale
and we were on the home stretch, starting in 2005 with the certifications ISO 9001 and the certification ISO 13485, continuing in 2007 with a new warehouse over 3,000 m² in Stelle near Hamburg and ending with another warehouse in Bosnia. At that time, the focus was not yet on
online trade
or an
online shop
, but we can say that the first ideas were now developing in our heads, e.g. "
Nitrile Gloves Wholesale
", to also communicate online. The focus was on our own junior staff. AMPri has been a training company since 2012 and we are considered one of the best training companies in the Lüneburg-Wolfsburg district of the Chamber of Industry and Commerce.
20th anniversary for wholesaler AMPri - The success story with wholesale for tradesmen continues
The company's twentieth anniversary and expansion with an additional 1,500 m² warehouse in Trittau was followed by the move as
AMPri Handelsgesellschaft mbH
to the new company headquarters in the Luhdorf industrial estate in Winsen/Luhe near Hamburg. In 2017, another European warehouse was established in Spain to meet the requirements of our international customers. In May 2017, we created a concept for mechanical protective gloves with the introduction of the new SolidSafety brand, which could now meet the specific requirements of many industries, especially in the use in occupational safety for
personal protective equipment (PPE)
, in the
food industry
as well as in the
medical, hygiene and care sectors
. In 2019, AMPri will celebrate our
25th anniversary
as a European
wholesaler
, as well as the opening of the
AMPri
Competence Centre
with a wide range of
training courses
in the Academy and in-house material testing of
protective gloves
in the in-house laboratory.
AMPri becomes an international wholesaler in the B2B wholesale market
With regard to the establishment of AMPri Iberica as a partner in Spain in 2020, we are looking to a secure and promising future as a national
B2B wholesaler
and international B2B wholesaler for disposable products, such as
disposable gloves
or
surgical masks
. Now the idea of a
wholesale online shop
or a
B2B online shop
is slowly crystallising in order to launch another distribution channel with automated processes. It quickly becomes clear that AMPri's concept is not a simple
B2B shop
in which the focus is on the product - AMPri wants more: it is to become a
B2B portal
or better: a
B2B partner portal
in which the focus is on the customers as partners and functions are provided that go beyond a simple
B2B shop
. That's why it quickly becomes clear that we will implement an
AMPri partner portal
by the end of 2021.
AMPri - personal, sustainable, flexible - also in online wholesaling.
The guiding principle of AMPri's management is personal and close contact with customers and production sites through regular visits to these at least once or twice a year. The top priority is that the customer also benefits from the managing directors'
many years of product experience
and
market knowledge
. When selecting production sites, AMPri sets the highest standards in
B2B trade
with regard to quality standards and sustainable production.
ISO certification
of the production plants is one of the basic requirements. In addition to the AMPri headquarters in Winsen/Luhe near Hamburg, the offices of the cooperation partners in China and Indonesia are also
ISO certified
. The proximity to the production sites makes it possible to obtain important first-hand information about the supplier market. We now offer an almost complete range of disposable and reusable products for medicine, protection & care, dental, hygiene and occupational health and safety for
wholesalers and industry in the B2B sector
and stand for flexible and fast delivery in view of eight European partners in Bosnia, Germany, Croatia, Latvia, Romania, Serbia, Spain and Ukraine. We offer more than 700 products in different variants (sizes, colours, etc.) in accordance with the requirements of the customers and the respective countries and this now also in our
B2B AMPri Partner Portal
.
Wholesale logistics and warehousing at AMPri
Our
logistics and warehousing
system has the task of delivering goods within the distribution chain safely and in accordance with the varying requirements. In our modern, up-to-date warehouse with a capacity of around
15,000 m²
, AMPri employs 16 staff with an additional nine logistics experts. We rely exclusively on trained specialist staff who never lose focus on qualitative working methods in order to be able to guarantee you a smooth flow of consignments and containers. In order to provide you with the best possible service, we work closely with the five largest sea freight forwarders in the world, negotiating and supervising ourselves. Export documentation is issued and delivered by our team of logistics experts themselves.
In addition to our challenges of maintaining
quality standards
under regulatory requirements for
protection, hygiene and care
, we are happy to assist you as a consultant on documentation issues, in addition to trade and distribution. One of AMPri's commitments is to maintain the highest
quality standards
, and its own requirement goes beyond this. To ensure stable processes, our eight-member quality management team works on permanent improvements. The optimised results are always in the interest of our suppliers, customers, employees and the environment.
AMPri's quality claim: "Breaking new ground together!"
Under the leadership of the European expert in the field of protective gloves, Johanna Hühn, high standards are set for quality and quality assurance in the laboratory and in the Academy of the Competence Centre.
Already during the
sampling inspection
and the
procurement of the goods
, it is checked according to strict specifications whether the goods and the supplier meet our high quality standards. Only when the AMPri quality standard has been met is the product released. In the next step, we attach great importance to the
incoming goods inspection
: There are inspection plans for all products according to which exact inspections are carried out. And should products still be rejected: Complaint-accompanying inspections are carried out promptly in response to the customer's concerns.
If you are interested in
biodegradable disposable gloves
, we are one of the first suppliers in Europe to offer a biodegradable disposable glove in the form of our "Nature Gloves by MED-COMFORT". After only 695 days, this "Nature Gloves" disposable glove has already decomposed. Conventional nitrile gloves need about 800 years for this.
AMPri's sales and service department employs more than 30 people in 2021 who are ready to support you with the right know-how. As a wholesaler for more than 500 items of medical products and personal protective equipment (PPE) outside the disposable glove range, we supply 50 countries worldwide and are also aiming for further customer segments in the future. Offering you an expanded range and individual total solutions for medical products and PPE is our top priority.
As an innovative company, we strive for growth and maintain an open and personal relationship with our customers without losing sight of the environment. As further visions for the future, the expansion of a sustainable, ecological product range and the development of more environmentally and skin-friendly materials, as well as the saving of energy and water, are very close to our hearts. By ecological responsibility, we mean optimised supply routes through international warehouses and the development of environmentally friendly biodegradable articles.
AMPri - Our promise, our vision, our values
With our promise, we guarantee innovative and individually tailored product and service solutions for every customer requirement. Because our vision is to be a unique and forward-looking supplier of disposable and reusable articles for the medical, care, hygiene and industrial sectors (medical devices and PPE) and to carry out our actions in an economic, socially sustainable and environmentally friendly manner. In order to meet all the requirements of our customers and users, we are in a constant state of growth with a particular focus on expanding our testing services, seminar and webinar offerings and, with our AMPri Partner Portal, expanding our range of services so that we are available to you as a customer around the clock 24/7.
THE CUSTOMER.
"The customer is always at the centre of everything we do, but without disregarding our company-specific goals and requirements, which we reconcile in the best possible way."
THE TEAM.
"We all meet as equals and work as a team to find solutions for the customer and to further develop our business."
UNDERSTANDING AND SUPPORT:
"We actively support each other within the team, but also across departments, and bring understanding to each other."
RESPECT. COMMUNICATION.
"We communicate openly, respectfully and constructively with each other."
OPPORTUNITIES. STRENGTHS.
"We accompany constant changes and increased demands on our business and our organisation positively and see this as an opportunity to develop ourselves and our company further and make them even stronger."
PASSION. SUCCESS.
"We work with passion on our tasks and enjoy success."
Social commitment with AMPri
We are committed to cultural, social, local, regional and employee-related projects, which we accompany and support:
HSV youth supporter since 2018

AMPri Kickin Asphalt's 2018: HSH Nordbank Run through the Hafen City for the aid campaign "Kinder helfen Kindern" (children helping children)

Future Day for schoolchildren every spring

Sucht- und Jugendhilfe e.V. (Addiction and Youth Aid Association) (To raise awareness about drug abuse in schools in 2019)

Fundraising for animal welfare organisations

Team fundraising campaigns: staff and management (autism companion dog for Kimi in 2019)